Harrts Associates limited and maritime services is one of the leading port and terminal provider in Africa which offers a whole range of activities related to shipping and stevedoring services through a network of many shipping agencies located around West Africa. Our shipping operations are coordinated by the NIGERIA Head Office with the support of our operation offices located in Togo, Ghana and Cotonou. Our local teams are available 24/7 and aim to offer you a reliable and efficient service in accordance with our ISO 9001 certified QHSE integrated management system and in compliance with our code of Business Conduct & Ethics. Together with our local shipping teams, we are committed to delivering best quality service and endeavoring to meet our customers' expectations.
*CUSTOM BONDED *TERMINIAL
* Bulk Cargo Carrier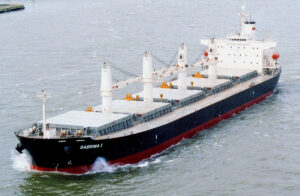 *WAREHOUSING
*Container Carrier
A bonded terminal is a warehouse or a storage area approved by the customs authority for a temporary storage of imported goods. The goods are kept in the terminal until the customs duty is paid or the goods are cleared by the authority. Bulk cargo is commodity cargo that is transported unpackaged in large quantities. Items such as flour, wheat, oil, grain, or coal are all examples of bulk cargo. Bulk cargo is classified as free flowing, a liquid, or a dry item. This type of cargo is typically dropped or poured as a liquid or solid into a merchant ship, railway car, or tanker truck. Below is a picture of a bulk carrier cargo.
Think about vendors and suppliers. After all these we are convinced that those locations are good for business. For instance neighboring  countries like Mali, Niger , Burkina Faso that have no ports in their countries comes to these locations we have secured and still securing to trade. So imagine we have warehouses there it will be a big jackpot to the company and of course our dear investors. Warehousing is the process of storing physical inventory for sale or distribution. Warehouses are used by all shipping industries that need to temporarily store products in bulk before either shipping them to other locations or individually to end consumers.
Warehousing has many benefits to offer to traders/businessmen, whether it is wholesale or retail, it provides a number of benefits listed as under:
(i) Safety and Preservation: Manufacturers, importers, wholesalers, exporters, traders and stockiest use warehouses to store their goods (raw materials and finished items) before distribution and sale. Besides, serving the storage purpose, warehousing facilitates preservation facility against water, fire, theft and climatic changes. Due to technological advancements, safety measures and computerization, warehouses minimize spoilage, errors, accidents, omissions, breakage, deterioration in quality etc. So we cargos bring in their containers to the port where we have warehouses they entrust their goods to our care, this generates more money to us.
(ii) Trouble Free Handling: Today warehouses are usually large plain buildings in industrial or institutional areas of cities and towns equipped with loading docks to load and unload trucks, from railways, seaports or airports. They also have automatic forklifts and cranes for moving goods from one place to another within the warehouse area. Some warehouses are completely automated with no workers working inside resulting in minimum wastage and easy handling during loading and unloading goods.
(iii) Ensuring Continuous Supply:  Certain commodities like agricultural products are produced during a certain period of year but consumed or required throughout the year. Warehouses ensure adequate supply of such seasonal products throughout the year without any break.
HAEERTS ASSOCIATES LIMITED: offers stevedores services to shipping lines specializing in the transport of containerized cargo (dry, liquid or reefer cargo), project cargo, liquid (tankers), breakbulk and bulk cargo, connecting Africa with the world. Our personnel is highly qualified and trained to ensure clients an efficient and unique experience.
(iv) Lifeline for Small Traders: Due to rising costs of land and financial limitations, small traders cannot afford to have their private warehouses. Public or government warehouses facilitate them to store goods at affordable rates. In absence of warehouses, it will be difficult for small traders to survive in cut-throat competition because 'stock out' situation if persists for long, can disrupt the image and goodwill of the traders especially the small traders who have no/limited marketing budget to spend.
(v) Assisting in Continuous Production: Warehouses facilitate the manufacturers to produce goods throughout the year without much attention of raw material shortage. The manufacturers who usually produce in bulk require raw materials in large quantity. Warehouses assist them to provide agricultural (seasonal) and industrial goods all over the year.
(vi) Location Advantage: Most of the warehouses are located at a convenient place near railways, highways, seaports and airports that facilitate smooth movements of goods. Further, convenient location reduces the distribution cost to great extent.
(vii) Employment Generation: Warehouses are usually large plain buildings in industrial areas of cities and towns covering huge storage area. Warehouses located in or near industrial areas are so big that can store goods of large number of businessmen at a time. Further, besides storage, warehouses perform several functions like procurement, sorting, dividing, marketing, preparing for shipment, handling, inventory control, display, order processing, financing, transportation, grading and branding and so on resulting in employment generation in various sections and at various levels. It is the source of bread and butter for several laborers, workers, employees and officers.
(viii) Financing: When businessmen store goods in the warehouses upon certain formalities, they get 'deposit receipt', which acts as a proof about the deposit of the goods. Warehouses also issue a document in the name of owner against storage of goods, which is known as warehouse-keeper's warrant. This document can be transferred by simple endorsement and delivery. Businessmen on account of these documents (warrants) may get financial aids/loans from banks, private tenders on financial companies. In some cases, warehouses also provide finance to the businessmen on keeping goods as collateral security.
(ix) Risk Reduction: Warehouse owners/authorities make certain that the goods stored in their warehouses are well protected, preserved and monitored. In order to keep proper information about good details, to save goods from theft and pilferage, warehouses employ employees and security staff.
For perishable items, they provide cold storage facility, to protect warehouse from fire, fire-fighting equipment are used. On requirement, goods stored may be insured against unforeseen mishaps like loss due to fire, theft and natural disasters.
(x) Assisting in Selling: Most of the warehouses, as per requirements from depositors' side, provide assistance towards inspection of goods, sorting, branding, packaging, financing and labeling that is essential towards sale of goods. In certain cases, transport arrangements may be availed to depositors for their bulk deposits.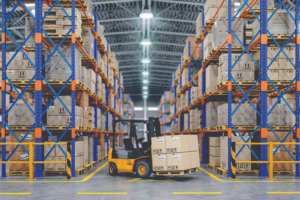 We have a department of Business Intelligence equipped with an statistical information system that contains data about cargo movements, on both import and export. King shipping trading and maritime services have great mission and vision and with you as our investor we will achieve a lot together. We promise to give you our best.
Our Customs department offers an all around management of cargo in all ports, airports, freezones and logistics center in the. We offer specialized service in the operations of loads with over-dimension and / or overweight (project cargo). The company has highly trained professional team to ensure the handling of this cargo as well as supervision throughout the operations, which includes customs management, land transportation, loading and unloading from origin to destination. In addition, we offer container loading and unloading services, general and project cargo, bulk, liquid and dry cargo, heavy and oversized cargo.
Our company works based on Quality, Occupational Health and Safety Commerce standards in the handling of cargo. As well as being certified by international environmental regulations, such as ISO 9001 and ISO 14001.